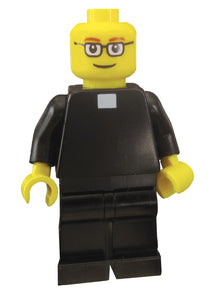 Introducing The World's Smallest Priest
Fr. Leopold is on a mission to share the good news of Jesus Christ with minifigures everywhere.
Sporting his brand new clerics and a friendly face, he is ready to preach the gospel and bring the sacraments to his people.
Made out of genuine LEGO® pieces, he promises to pray well with others.
Fr. Leopold is available as a part of the Father Leopold Celebrates Mass set produced by the Domestic Church Supply Company.
Advent Wreath with LEGO Bricks
Just in time for advent. This set features 48 genuine LEGO® bricks. "Light" the candles to mark the weeks of advent. Don't forget the rose candle is for the third week!
$14.99 with FREE SHIPPING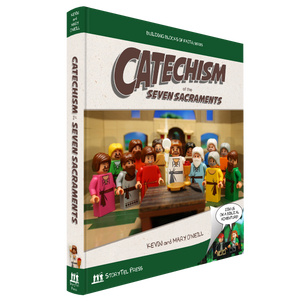 Catechism of the Seven Sacraments
Join your friendly guides Fulton and Cynthia on a biblical adventure as they journey through salvation history. Stunning photographs created with LEGO® bricks help develop a deeper understanding of salvation history and the sacraments and provide great LEGO® building ideas too!
Hardcover: 290 pages.
$37.99 with FREE SHIPPING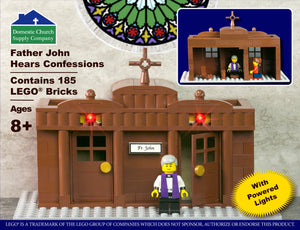 Introducing Fr. John Hears Confessions
Father John is on a mission to bring God's mercy to minifigures everywhere.

After Father John puts on his stole and takes his place in the confessional he is ready to hear confessions. Penitents may choose to go face to face or behind the screen.  Don't forget to turn the lights on when the confessional is in use! If another priest is on duty, be sure to change the name plate to "Visiting Priest."

Make the penitent a boy or a girl (we are all sinners) and use the reversible face to show both the sorrow of sin and the joy of forgiveness.
$84.99 with FREE SHIPPING
Testimonials
I teach middle school religion. Father Leopold's Mass Kit is an excellent way to describe the parts of the mass to younger students. I could not be more pleased with the detail that was put into this product.

John Z.
This Lego Mass set is absolutely fantastic! I am using it with my 7 year old boy (and his brother, the fifteen year old, loves it too!). The details are so neat. You can change Fr Leopold's vestments with the liturgical season. There is a saint relic (in the shape of a bone) to place in the alter. The tabernacle is awesome. Well worth the price! I am happy to have found this set to help teach this next year for Holy First Communion.

Jennifer S.
What a beautiful way to teach kids about the mass and get inspired about their first Holy Communion. I am truly grateful to those that came up with the idea. It inspired my daughter to learn and love the mass. Thank you.

Patricia B.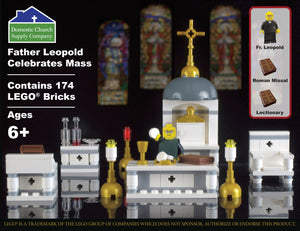 Father Leopold Celebrates Mass
This set features 171 genuine LEGO® bricks and three modified bricks. Includes a 28-page full-color instruction guide and red, green, white and purple chasubles for the primary liturgical seasons.
$64.99 with FREE SHIPPING
Subscribe to our newsletter
Promotions, new products and sales. Directly to your inbox.